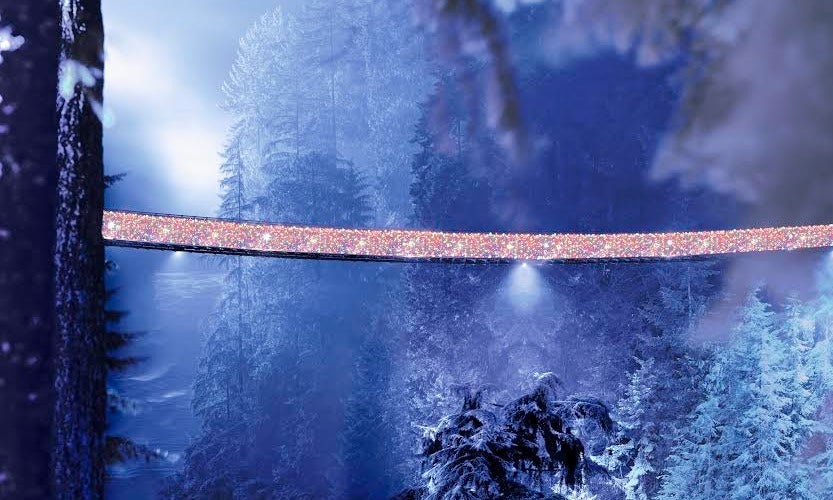 2017 is winding down fast and holiday activities begin next weekend. There are so many things to do in our community in the weeks leading to Christmas such as a Ferry Wheel, the largest outdoor display of Christmas trees, and the world's tallest living Christmas tree. Here is your holiday guide for the North Shore.





The Shipyards Christmas Festival

During the first weekend of December, the Christmas Festival will transform the Shipyards. Yes, there will be the usual family-friendly activities (including ornament making and gingerbread decorating) and the winter artisan market, but the highlight this year is the Ferris wheel! Finally, Lonsdale Lonsdale will have a Ferry wheel, even if it is just for a few hours.

Greg Holmes, executive director of the Lower Lonsdale BIA, said to the North Shore News, "Think about it: you're staring down at a massive Christmas tree and a Christmas market on the edge of one of the most beautiful cities on the coast, with the city on your left and the mountains as the backdrop on your right. It doesn't get more special than that."Lower Lonsdale BIA is sponsoring the ride, which will be located beet Pier 7 and the Burrard Dry Dock Pier and will start spinning at 4 pm on Saturday, December 2nd.

Activities are free, but donations are encouraged and will be split equally between Hollyburn Family Services and Foundry North Shore.





When:

 

Saturday, December 2nd 4 pm to 10 pm

              Sunday, December, 3rd, 10 am to 8 pm


Admission:

Free, but donations are encourage





Dundarave Festival of Lights

The annual Dundarave Festival of Lights kicks with a tree decorating party on Saturday, December 2nd, with the official lighting of the Festival's Christmas tree forest taking place at dusk. The party goes on during the four Saturdays leading up to Christmas with free concerts. Since 2009, the Forest of Miracles has rallied our community to give over a third of a million dollars in charitable donations directly to

the Lookout Society's North Shore Shelter

, which helps the most vulnerable members of our community to make their way out of homelessness.

Check out their website for more information about the free concerts.



When:

Every Saturday from December 2nd to December 23, 2017

Where:

Dundarave Beach

Admission:

Free





Canyon Lights at Capilano Suspension Bridge Park

This annual holiday tradition is a must-see for all ages. It features thousands of magical lights twinkling across the Suspension Bridge, Treetops Adventure, Cliffwalk and throughout the park, as well as the world's tallest living Christmas tree.

BC residents enjoy one full year unlimited admission for the price of one day's regular admission, including Canyon Lights

. Avoid the lines and visit weekdays before December 16th.


When:

November 24, 2017, to January 28, 2018




              Holiday activities from 4-9pm





Peak of Christmas at Grouse Mountain

Nothing says Christmas like the Winter Wonderland in which Grouse mountain transforms. From Santa's workshop and the light walk to sleigh rides and skating under the stars, visiting Grouse is the perfect activity to get all family members into the holiday mood. Activities are complimentary with admission. For more information,

check out Grouse Mountain website.



When

:

November 24, 2017 - January 7, 2018 





Christmas Bureau

This is not a festival, but a shout out to the amazing work Family Services of the North Shore does helping out families with financial challenges in our community during the holidays. Their goal is to help low-income families to enjoy a hearty meal on Christmas day and to ensure that every child receives a toy on Christmas morning. Please consider making an in-kind or financial donation.

For more information, click here.