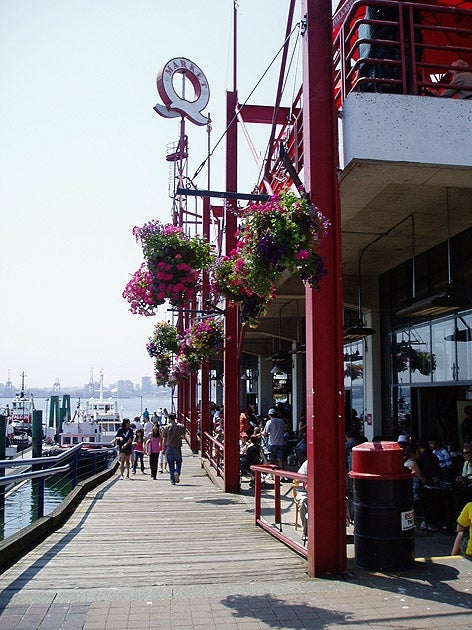 Those of us who have grown up on the North Shore have watched as Lower Lonsdale has blossomed into one of the lower mainland's most popular communities. And is it any wonder? We enjoy the best of living right at our doorstep. 
For those not familiar with the area, it is known for it's deeply entrenched history in the ship building industry and has transformed into a vibrant hub of contemporary living.
The truth is we have everything we need right here and yet it is only a short Seabus ride to Downtown Vancouver if you want to take in a game or commute to work.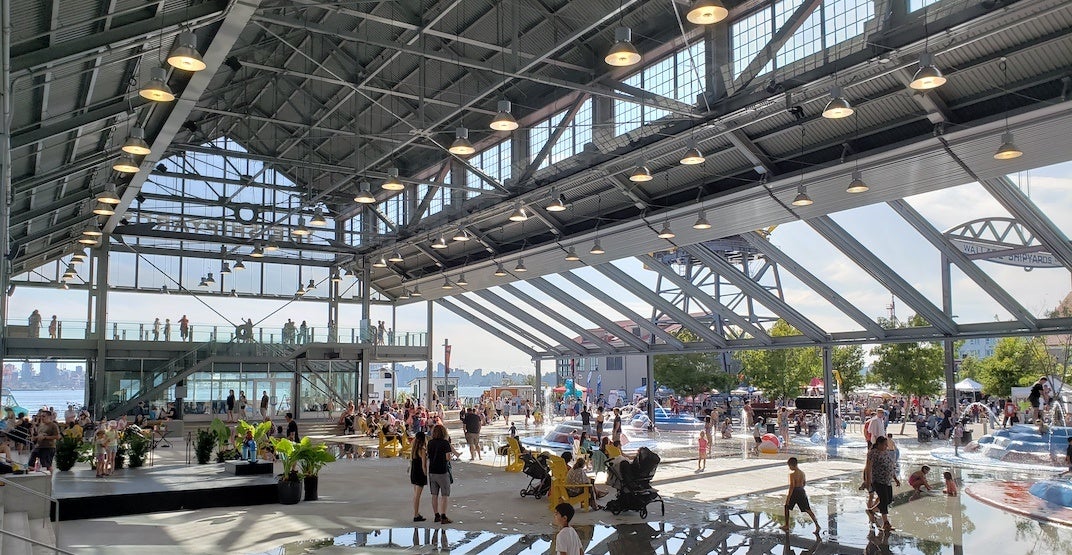 The Shipyards Common is the newest addition to the area, promising an active and animated public space every season of the year. The retractable allows for year-round use.
During the summer the Shipyards Common main plaza transforms into an 8,000 square foot water play area. During the winter months, it will become a 12, 000 square foot outdoor public skating rink.

 

The development is mixed-us offering a selection of restaurants, coffee shops, stores, and other amenities, such as Capilano University's new location, CapU Lonsdale, which offers a number of continuing studies classes offered on site and the new Seaside by Executive Hotels & Resorts

, a high-end, boutique hotel with 72 rooms, and ocean-facing spa suites.
These are some of the restaurants, cafés and other amenities located at the Shipyard Commons.
Caffe Artigiano
includes access to an expansive patio, lots of outdoor seating and a fire pit.
Joey Shipyards
will be a 9,500 square foot flagship restaurant over two-storeys, with two spacious waterfront patios. Joey Shipyards will be the first North Shore location for this brand.
Nook
is a rustic Italian restaurant that features handmade pasta and pizza. This will be Nook's first North Shore location.
The Wallace
is a beautiful, modern-industrial venue located on the third level of the reconstructed Machine Shop. Featuring a 2,300 square foot outdoor terrace, a capacity for 200 guests and an unobstructed view in the city.
Welcome Parlour

, one of the North Shore's favourite ice cream makers, has opened a second location.
Larry's Market

, the vegetarian market, is stocked with fresh produce and handy frozen foods, bulk grains, a dairy section, and a vegetarian café.
"The Shipyards is the centre of a revitalized civic heart of Lonsdale. Inspired by the history of the site, it's the final puzzle piece connecting a string of waterfront spaces along the Spirit Trial. It offers a public amenity that is distinctly North Vancouver, and promises to be a regional attraction for a new generation in this historic precinct."
– Shane Oleksiuk, Project Architect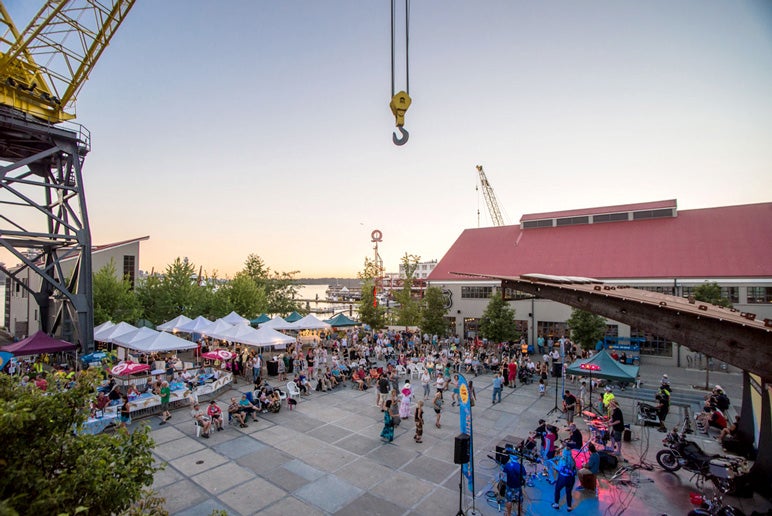 Shipbuilders' Square is home to a community stage for concerts, plays, markets, and festivals, which take place regularly throughout the year.

It commemorates the thousands of men and women who worked in the shipyard from 1906 -1992. Over 450 ships were launched from this site during the many years of the historic shipyard operation including merchant marine vessels and Victory ships.

One of the most successful community events, runs from May through September every Friday evening. Visitors enjoy fresh food, locally made products, art and entertainment, a beer garden, and live music, showcasing talent from all over BC.
The new home of the Presentation House Gallery exhibits contemporary art, with a focus on photography, emphasizing contemporary Canadian work within the context of historical and international art. The organization has operated for over forty years, and has earned a reputation as one of Canada's most adventurous public art institutions.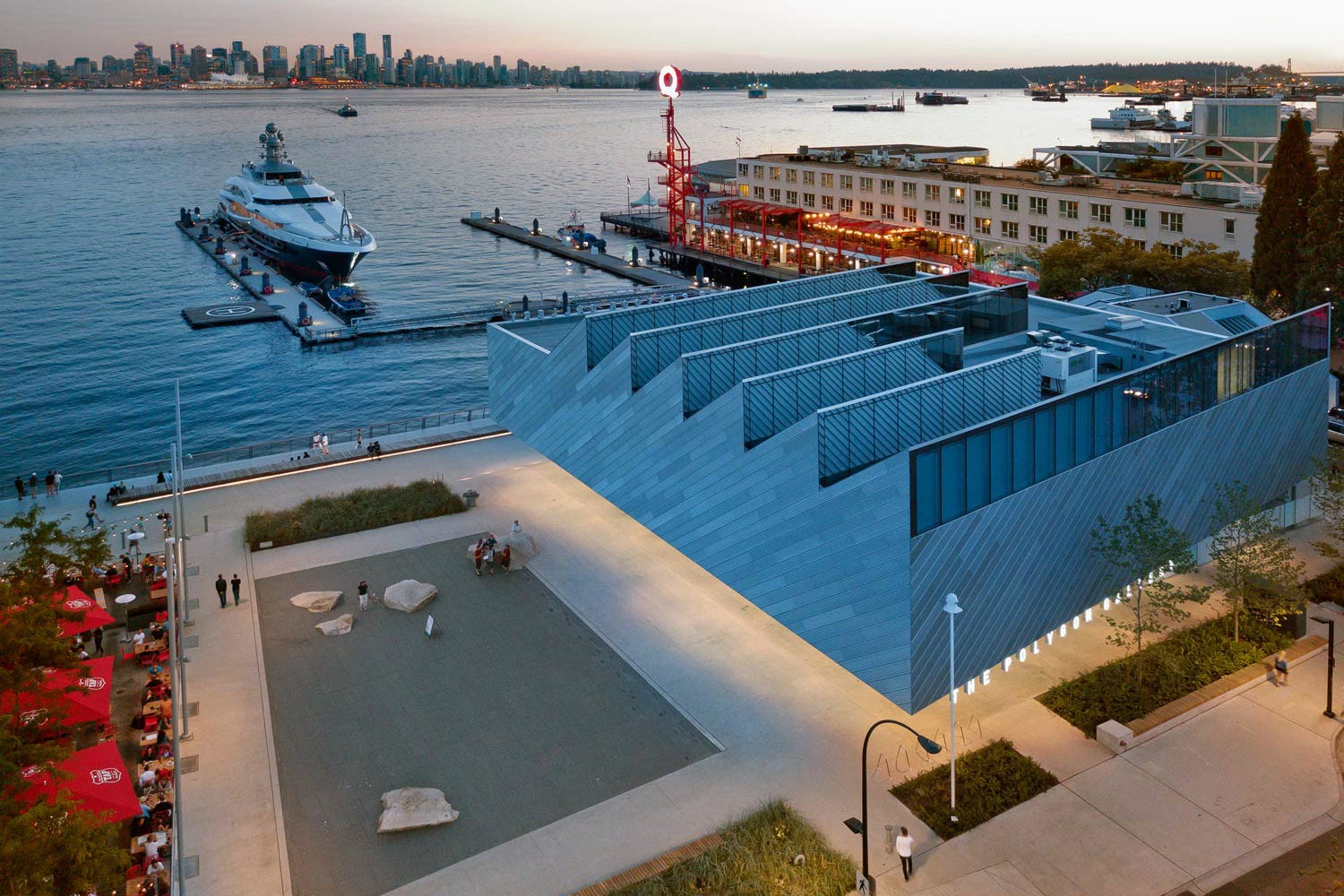 Total space: 2,300 sq. m (25,000 sq. ft) on two levels.
• Main floor: community space with exhibition area, gift shop, café (planned), floor-to-ceiling walls on three sides on concrete floor.
• Second floor: four gallery spaces with white oak floors, including an event gallery for rentals, plus a bookstore, catering kitchen, offices.
• Exterior cladding: industrial metal grating — the kind of non-slip walking surface found at marinas on gangways and docks — on mirror-polished stainless steel.
• Admission to second-floor exhibitions is by donation.
The duo formed by
the Polygon Gallery
and the North Vancouver Museum (which will be part of Promenade at the Quay, the new retail/residential complex currently built in Lonsdale and Esplanade) will transform Lower Lonsdale into the cultural heart of the North Shore.