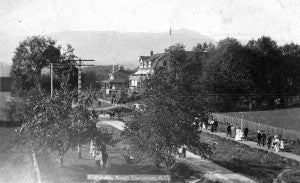 Lower Lonsdale's history is rooted in the shipbuilding industry.
In 1906, the historic shipyards at the foot of Lonsdale opened under the name of Wallace Shipyard. Over the next 84 years, it was known as Burrard Dry Dock and, most recently, as Versatile Pacific Shipyards.
For the majority of the 20th century, Burrard Dry Dock was the largest shipyard in Western Canada launching over 450 ships. During the height of World War II, it built one third of Canada's WWII Victory Ships and employed 14,000 men and women. Entire subdivisions were created in Lower Lonsdale to house the shipyard workforce.
The shipyards closed in the early 1990′s; however, the Vancouver Drydock Company, located to the east of the shipyard site, continues to operate and is an important part of Lower Lonsdale's working waterfront. Burrard Dry Dock has received the National Heritage Designation and is recognized as a Primary Heritage Site.
Today, Burrard Dry Dock is the defining aspect of Lower Lonsdale's identity and is becoming the heart of the community. This historic site is currently undergoing an exciting waterfront revitalization and redevelopment called The Pier, which includes stunning high rise apartments, a new hotel, trendy restaurants and boutiques, various galleries and a National Maritime Centre. Some of the historic shipyard buildings and the two piers will be either retained or reconstructed as part of the waterfront project.
The original Explanade (photo above) was a true Esplanade for pedestrians, that ran along the shore from Lonsdale to Chesterfield. This was originally a resort area, featuring the Hotel North Vancouver (in photo), a bathing beach, a gazebo for concerts, etc. Today, it's hard to imagine it ever existed, as the shore was long ago filled in and the area converted to business buildings and a busy street.