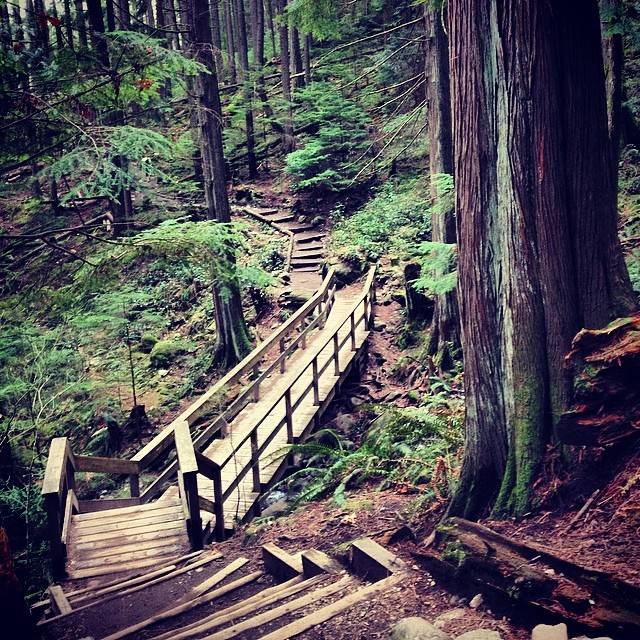 These last few days have been so gorgeous that we all wish we were on spring break, enjoying the sunshine. It is also an excellent time to remind us of great outdoor activities in our own backyard.
Here are few suggestions for activities on the North Shore for kids (and adults) this spring break:
Seawall Walk
This one is a personal favourite of my partner and mine. Every chance we get, we head out for a walk and stop for brunch at the
Beachhouse Restaurant
(which is currently closed, undergoing renovations – still I had to mention it, and it should be open this summer) and then leisurely walk back to Ambleside Beach. On clear days, the sky and sea become this infinite shade of blue. We also enjoy hearing the multiple languages being spoken along our route. It is another way to experience how diverse and multicultural the North Shore is.
Hike through the Baden Powell Trail
One of the best parts of living on the North Shore is the access to the mountains. I grew up in Blueridge so it is no surprise that my favourite part of this amazing trail starts at the entry on Hyannis Point.  
The eastern section of the Baden Powell trail travels through North Vancouver from Deep Cove to the Lynn Valley Suspension Bridge. This section of the trail passes several scenic landscapes, from a view of Deep Cove and Indian Arm, to great canyon scenery of the Seymour River and Lynn Creek. Note that this hike has a different starting and ending point, so you will need to arrange transportation either back to your car at the starting point or through public transit.
Bike the Spirit Trail
Eventually, the Spirit Trail will connect Horseshoe Bay with Deep Cove. The great news is that the Mosquito Creek Bridge was completed at the end of last year so you can enjoy a fabulous ride from Bridgman Park to Ambleside.
Click here for a detailed trail map
.
Last ski of the season
The sun is shining, but there is still snow on our local mountains.
Cypress Mountain
 has  300 of s cm on the base and 300 on the Summit.
Seymour
has 374 cm on the summit and 41 runs open.
Plus, spring discounts are here! Just don't forget to wear sunscreen.  
Take the kids swimming
With four great pools across the North Shore, swimming is a family favourite during spring break.
The West Vancouver Aquatic Centre has a leisure pool with warm water, fountains and a lazy river, water slide, a wibit inflatable obstacle course (check schedule), lap pool, diving boards, and hot tubs.
Check the public swim schedule
.
There are three North Vancouver Recreation Centre pools. All of these pools will offer hours of family fun during public swim. Karen Magnussen has a wave pool (during public swim), hot tub, preschool play area, gradual walk-in entry to the pool where kids can play in the shallow water. The new Delbrook pool also has an excellent leisure pool and hot tubs. Harry Jerome has a pool (25m), waterslide and hot tub. Ron Andrews has a pool (37m), hot tub, rock climbing wall, diving boards, rope swing and a shallow end with lots of play toys during public swim.
Check the public swim schedule
North Vancouver Recreation and Culture offers unlimited access for children aged 3-18yrs to public swimming, skating and open gymnasium sessions during spring break for just $5.25 with the Pool & Play pass.  

I hope that all these family-friendly activities remind you how fabulous the North Shore, especially for those raising a family.
This spring break might be the perfect time to talk about real estate opportunities in our local market.
Contact me here
 and let's have a chat.